Branco
Showing all 3 results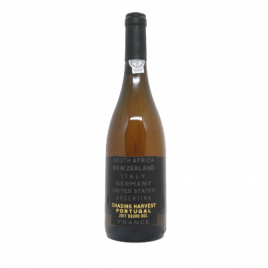 Chasing Harvest Douro Branco
Although, ports have been made for centuries in the region, a focus on quality dry wines is rather recent. Some small vineyards hidden in the Douro's mountain villages perhaps not appropriate for ports can be undiscovered treasures for these non-fortified white wines. We believe we were lucky to find a couple of these hidden treasures for this wine. Again, made with our good friend Henrique Cizeron and hand harvested largely by ourselves we are very pleased with the results. This barrel fermented white blend expresses citrus and stone fruit aromas, minerality, and a creamy texture with an elegant finish.
Producer Chasing Harvest
Country Hierarchy Duoro, Portugal
Grape/Blend Branco
Alcohol Content 13.5%
not rated
$

29.99
Read more
Pavão Branco Vinho Verde
This crisp and fragrant white blend from the north of Portugal is not far from Spain's Rias Baixas known and loved as the land of crisp Albariño. The cooler wet 
Região Vinhos Verdes
 is just south across the Minho River and while they allow Albariño in their blends (under the Portuguese 
Alvarihno
) this punchy glass of pure refreshment is a traditional blend of 
Loureiro, Trajadura and Pedernã
 which come together like a dry and quenching like limeade made all the better by a chalky minerality and a sour patch acidity that clips off clean and snappy and beckons the next sip. With this sort of structure it goes without saying this has a charming affinity for food from the Iberian coastal fare with which it's familiar to the Asian spices with which it carries on so well. This is an outstanding glass of crisp, white, northwestern Portuguese goodness for goodness sake. Drink it and lots of it because it inspires cheer and being chipper.
Producer Vercoope
Country Hierarchy Vinho Verde, Portugal
Grape/Blend Vinho Verde
Alcohol Content 11%
not rated
$

9.99
Add to cart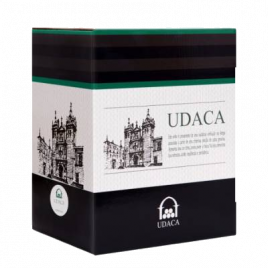 Udaca Bag in Box Branco Dão
Greenish-yellow in color. Young fresh wines with a subtle flowery fragrance. Delicate, highly-refined, well-structured wines with good tartness and a final prolonged in-mouth flavor
Producer Udaca-União das Adegas Cooperativas do Dão
Country Hierarchy Dão, Portugal
Grape/Blend Branco
Alcohol Content 12.4%
not rated
$

39.99
Add to cart