Verdicchio
Showing all 2 results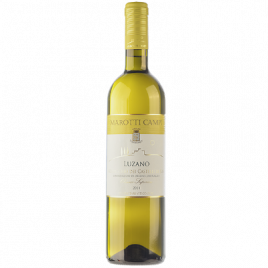 Marotti Campi Luzano Verdicchio dei Castelli di Jesi Classico DOC Superiore
Straw yellow color with light green reflections. Aromas of acacia, broom and wildflowers, chamomile with typical hints of almond. Dry, savory, mineral, with hints of green apple and pleasant almond finish.
Producer Marotti Campi Proprietari Viticoltori
Country Hierarchy Marche, Italy
Grape/Blend Verdicchio
Alcohol Content 13.5%
not rated
$

16.99
Add to cart
Marotti Campi Salmariano Verdicchio dei Castelli di Jesi Classico DOCG Riserva
Bright straw yellow color with light gold reflections. Aromas of broom and elderflower, marine and mineral hints with a delicate touch of vanilla, great evolution during aging. Full bodied, with good acidity to balance the fruitiness, sapid and mileral, well balanced and long finish.
Producer Marotti Campi Proprietari Viticoltori
Country Hierarchy Marche, Italy
Grape/Blend Verdicchio
Alcohol Content 13%
not rated
$

21.99
Add to cart