Fattoria Giuseppe Savini Merlot
There's a thorny, almost raw quality of fruit here that is backed by a touch of dill weed and black tar. It feels tart and slightly bitter on the close.
Varietal: 100% Merlot
Alcohol Content: 12%
Country Hierarchy: Abruzzo, Italy
Color: Ruby ​​red tending to purple
On the Nose: Fresh fruit (raspberries, blackberries, black currants, cherries), with a light note of herbaceous undergrowth
Palate: Soft, velvety, rightly tannic, with good balance and intensity. Fruity, persistent.
Serving Suggestions: First courses with meat sauces and second courses with meat. Medium-aged cheeses
You may also like…
Savini Riserva Montepulciano d'Abruzzo
The color is very concentrated garnet red.The scent opens with a bouquet of dark fruit jam and dried flowers with soft notes of pepper and cardamom and closes with aromas of licorice and delicate coffee.In the mouth it is slender, elegant but with great structure, tannic and velvety. The taste is persistent with spicy and fruity returns.
Varietal: 100% Montepulciano
Alcohol Content: 13.5%
Country Hierarchy: Abruzzo, Italy
Color: Garnet red, very concentrated.
On the Nose: Dark fruits jam and withered flowers, enriched with subtle pepper, and cardamom notes.
Palate: Warm, rightly fresh and sapid. Very persistent, recalling fruit and spices.
Serving Suggestions: Main meat course; roasted or braised.

not rated
$

24.99
Read more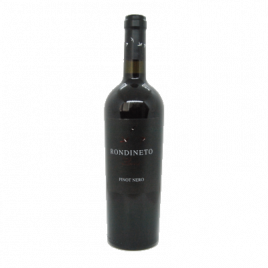 Fattoria Giuseppe Savini Pinot Nero
The color is red. The scent is pleasant and mild, medium persistence with fruity notes. The palate is fresh and elegant with good length.
Varietal: 100% Pinot Nero
Alcohol Content: 12.5%
Country Hierarchy: Abruzzo, Italy
Color: Pale ruby ​​red with garnet reflections.
On the Nose: Floral note of violet stands out on the nose, to which are added delicate fruity hints of black currant, blackberry, raspberry with a light spiciness.
Palate: Pleasantly fruity with a good balance between softness, fine tannins and good acidity. End of just persistence. The finer and more complex notes (leather, undergrowth, tobacco, spices) can be found with aging.
Serving Suggestions: Legume soups, first courses with meat sauce, roasted meat, braised meat and game. Ideal companion with medium-aged cheeses, cold cuts.
not rated
$

11.99
Add to cart