Sicilian Gold – Catarratto DOC
Catarratto is the most important white grape variety of the Island, the most know and cultivated one for more than three centuries. In single varietal wine give a medium body wine with fruity and floral aromas and a good acidity.
Varietal: 100% Catarratto
Alcohol Content: 12%
Country Hierarchy: DOC Sicilia
Color: Brilliant straw yellow with greenish hues
On the Nose: The bouquet opens up with fruity pineapple and orange peel notes with subtle floral scents of orange blossom
Palate: Medium body wine with a balanced acidity, pleasantly fresh in the finish
Serving Suggestions: Especially recommended with fresh rice salad, fish dishes and shellfish, white meats and fresh cheeses.
Out of stock
You may also like…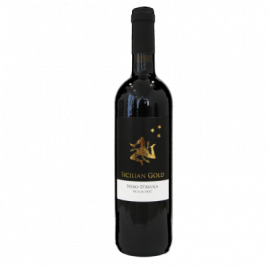 Sicilian Gold – Nero D'Avola DOC
Nero d'Avola is the most representative red grape variety of Sicily because it reflects the land of its origin. The wine produced from these grapes is a full body wine with a good persistence and red fruit flavors with spicy scents.
Varietal: 100% Nero d'Avola
Alcohol Content: 14%
Country Hierarchy: DOC Sicilia
Color: Brilliant ruby red with violet hues
On the Nose: A bouquet with intense cherries and blackberries notes with a light spicy undertone with hints of tobacco
Palate: Full body wine with soft tannins and a well balanced acidity that makes it an easy drinking red wine
Serving Suggestions: Mainly recommended with complex recipes as meat sauce, roasted or baked red meats, game meats, vegetable soups and aged cheeses
not rated
$

12.99
Add to cart