Terre di Melazzano – Cantinato Chianti Classico DOCG
In this bottle is a blend of the best Sangiovese, adding at the time of bottling, 10% Merlot and 5% Cabernet, previously aged for one year in oak barrels.
The aging process continues for another two years, one in the barrel and the other in the bottle. It has a ruby red color with persistent "arches". Intense flavor with hints of ripe fruit. Taste dry, velvety, slightly tannic. Persistent aftertaste with increasing intensity. To accompany roast meats, game, stews, cheeses, pasta dishes.
Varietal: 85% Sangiovese, 10% Merlot, 5% Cabernet
Alcohol Content: 13.5%
Country Hierarchy: Greve in Chianti, Tuscany, Italy
Color: Ruby red color with presence of persistent border color and arches.
On the Nose: Intense perfume with scents of mature blackberries and prunes with hint of vanilla.
Palate: Persistent after taste with growing intensity.
Serving Suggestions: Roasts, stews, mature cheeses.
You may also like…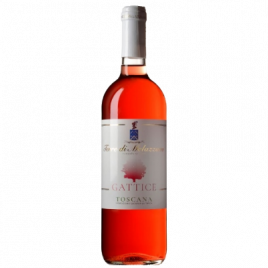 Terre di Melazzano – Gattice
This product was created with the desire to give a more youthful alternative to the Tuscan red wine. The crystal cherry color contains lighter shades of red. It has a fine aroma, pleasant fruity and floral. The taste is dry, slightly cool but with great personality and persistence.
Varietal:
Alcohol Content: 12.5%
Country Hierarchy: Greve in Chianti, Tuscany, Italy
Color: Bright pink.
On the Nose: Fine and pleasant smell of fruit and flower aromas of fermentation.
Palate: Slightly dry and fresh with good personality and persistence.
not rated
$

12.99
Add to cart